​​
David Abram
Alliance for Wild Ethics (AWE)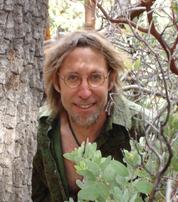 David Abram, PhD, cultural ecologist and geophilosopher, is the author of Becoming Animal: An Earthly Cosmology and The Spell of the Sensuous: Perception and Language in a More-than-Human World. 2010
Dr. Abram's work engages the ecological depths of the imagination, exploring the ways in which sensory perception, language, and wonder inform the relation between the human animal and the animate earth. A Distinguished Fellow of Schumacher College in England, David is founder and creative director of the Alliance for Wild Ethics (AWE), a consortium of individuals and organizations dedicated to cultural metamorphosis through a rejuvenation of oral culture.
Hailed as "revolutionary" by the Los Angeles Times, as "daring" and "truly original" by Science, David's work has been catalytic for the emergence of several new disciplines, including the growing field of ecopsychology (in both its clinical and its research branches).
His essays on the cultural causes and consequences of environmental disarray are published in numerous magazines, scholarly journals, and anthologies. He received the international Lannan Literary Award, as well as fellowships from the Rockefeller and Watson Foundations. In 2014 David held the international Arne Naess Chair in Global Justice and Ecology at the University of Oslo.
David was the first contemporary philosopher to advocate for a reappraisal of "animism" as a complexly nuanced and uniquely viable worldview, one which roots human cognition in the dynamic sentience of the body, while affirming the ongoing entanglement of our bodily experience with the uncanny intelligence of other animals, each of whom encounters the same world that we perceive, yet from an outrageously different angle and perspective.
David's philosophical craft is informed by his fieldwork with indigenous peoples in southeast Asia and the Americas, as well as by the European tradition of phenomenology. His ideas are discussed and debated (sometimes heatedly) in various academic journals, including Environmental Ethics and Journal of Environmental Philosophy.
A close student of the Traditional Ecological Knowledges (TEK) of diverse indigenous peoples, David's work articulates the entwinement of human subjectivity with the varied sensitivities of the many plants upon which we depend, as well as with the agency and dynamism of particular places, or bioregions, that surround and sustain our communities.
David lives with his two children in the foothills of the southern Rockies.
Comments on David Abram's writings
​
"Prose as lush as a moss-draped rain forest and as luminous as a high desert night… Deeply resonant with indigenous ways of knowing, Abram lets us listen in on wordless conversations with ancient boulders, walruses, birds, and roof beams. His profound recognition of intelligences other than our own enables us to enter into reciprocal symbioses that can, in turn, sustain the world. Becoming Animal illuminates a way forward in restoring relationship with the earth, led by our vibrant animal bodies to re-inhabit the glittering world."
— Robin Wall Kimmerer, author of Braiding Sweetgrass
"The Spell of the Sensuous is a book of rare brilliance and huge influence, that has now shaped the thought of a generation of readers. Its combination of rigor of thought, openness to wonder, and generosity of spirit is unique. I fell first under its spell fifteen years ago, and it has been foundational to my writing and teaching ever since – as well as to my everyday experience of being in the world. Today, surely more than ever, as the Anthropocene shadow lengthens and darkens, we need the hope and vision of this remarkable work."
— Robert Macfarlane, author of Landmarks and The Old Ways
"A masterpiece — combining poetic passion with intellectual rigor and daring. Electric with energy, it offers us a new approach to scholarly inquiry: as a fully embodied human animal. It opens pathways and vistas that will be fruitfully explored for years, indeed for generations, to come."
— Joanna Macy, Buddhist scholar, activist, and author of Active Hope
"One of the most compelling and important ecology books in decades… Abram has given us another classic that will help us ponder our future and choose our actions wisely."
— Rex Weyler, co-founder of Greenpeace International, author of Greenpeace: The Inside Story
"A truly original work. Abram … puts forth his daring hypothesis with a poetic vigor and argumentative insight that stimulate reconsideration of the technological commonplace… With Abram, anthropology becomes a bridge between science and its others."
— Science
"A wild profound ride into the essence of the human animal…embedded in communion with the Earth. A must read for anyone concerned about the future of the planet and ourselves."
— Kieran Suckling, co-founder and Executive Director, Center for Biological Diversity
"Speculative, learned, and always 'lucid and precise' as the eye of the vulture that confronted him once on a cliff ledge, Abram has one of those rare minds which, like the mind of a musician or a great mathematician, fuses dreaminess with smarts."
— The Village Voice
"This is a landmark book. Scholars will doubtless recognize its brilliance, but they may overlook the most important part of Abram's achievement: he has written the best instruction manual yet for becoming fully human. I walked outside when I was done and the world was a different place."
— Bill McKibben, author, international climate campaigner, and co-founder of 350.org
"The Spell of the Sensuous does more than place itself on the cutting edge where ecology meets philosophy, psychology, and history. It magically subverts the dichotomies of culture and nature, body and mind, opening a vista of organic being and human possibility that is often imagined but seldom described. Reader beware, the message is spell-binding. One cannot read this book without risk of entering into an altered state of perceptual possibility."
— Max Oelschlager, author of The Idea of Wilderness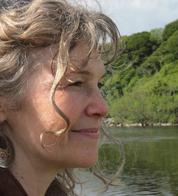 Rachael R. Resch
Rachael R. Resch, PT/LMT, brings a deep understanding of the human body, world cultures, earth science, and mythopoetics to her movement sessions. She empowers people of all ages and physical abilities to experience their body's personal relationship with the Holy Ground. These dance practices are accompanied by her evocative spoken word all about living on Earth in a human body.
She is the owner of Synergy Physical Therapy and Movement Arts in Ashland, Oregon and has been in practice for 25 years. She has a bachelor's degree in Religion and Dance from Oberlin College, and a Master of Science in Physical Therapy from Pacific University.
Rachael is a black belt Nia teacher, offering six classes a week in Ashland, Oregon. She was a member of the Nia Teacher Training faculty from 2010 to 2017. Working with Nia co-founder Debbie Rosas, she co-created a workshop curriculum called The Body's Way: Art of Nested Systems.
Since 2010 Rachael has served as embodied prayer guide at the Ashland Jewish Renewal synagogue, Havurah Shir Hadash.
Originally from Brooklyn, New York, Rachael's mentors include William Irwin Thompson, Robert Bly, Coleman Barks, Joseph Campbell, Marion Woodman, Michael Meade and Rabbi Aryeh Hirschfield (zt"l). She attended Robert Bly's Conference on the Great Mother and the New Father for over 20 years, where she led movement.
Rachael and her husband, Richard Seidman, have studied world cultures for 13 years with Martín Prechtel at Bolad's Kitchen, his school in New Mexico. For over 20 years they have coordinated Martín's lectures and workshops in Ashland and Portland, Oregon.
Rachael's new book, Holy Body, Holy Ground: Seven Days of EcoSpiritual Practice Through the Tree of Life, was published by Alchemy Imprints in fall 2018.